Hi there! This is the first tutorial I'm hosting here. Its about rigging a mechanical/roboter-machine. You can find an indepth tutorial of modeling this machine here. Paulo Baptista does a nice job guiding you through each of the different steps to setup the model to the final state that I picked it up and started the rigging.

First of all some words about mechanical rigging. When I use the term "mechanical" I mean that the models limbs are stiff, made of a hard material and will not deform during animation. The good things are that we have less work during the rigging process, because the whole weighting procedure is not needed and next to that we don't need to setup joints at all. The different mesh parts themself- will be our joints. Sounds nice, huh?
The downside of the mechanical rigging in our case are the joints that are restricted to one rotation axis, this means we need to pay attention that the limbs aren't rotating in directions the modeled joints aren't allowing, because it would cause intersecting meshparts.

-Well, let's get started by taking a look at the final model:
Everything looks nice and clean set up. But what I want to adjust is the pivot position of the limbs. They're exactly in point from side view but I need to offset them slightly along their x-axis to bring them to the point where each two limbs of a leg are linked. That means I offset the pivot slightly along the x-axis by switching to model the tool and moving (E) each pivot point along the x-axis as seen in the next pic:

After thats done we need to adjust the hierarchy: First of all we rename the limbs as seen in the following pic:

Powered by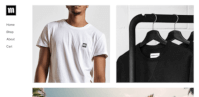 Create your own unique website with customizable templates.